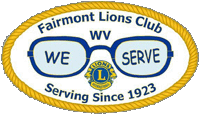 Fairmont Lions Club
PO Box 1164, Fairmont, WV 26555
Chartered April 20, 1923

Fairmont Lions Club
PO Box 1164, Fairmont, WV 26555
Chartered April 20, 1923


&nbsp
Services Completed 7/1/2020 - 6/30/2021
People Served

Service Activities Completed

Volunteer Hours

Funds Donated

369

11

70

$890.00
TNT Industrial Supply, 3535 Fairmont Avenue in White Hall, now has brooms and mops on sale to support the service activities of the Fairmont Lions Club. We thank them and we thank you for your support.

Posted by Fairmont Lions Club on Friday, October 30, 2020
Schedule of Meetings & Events
2020 CHRISTMAS PARADE ANNOUNCEMENT

The Fairmont Lions Club regrets that we have found it necessary to cancel Fairmont's Christmas Parade this year due to the COVID-19 pandemic. After consulting with the Marion County Health Department and considering the safety of all involved — parade participants, families as spectators, and those who spend time lining-up the parade units, it was clear that we could not ensure distancing and face covering requirements would be observed. The anticipated crowd size would far exceed recommended limits for gatherings. The parade could put the health of children and families, parade units, and organizers at risk. As an organization whose motto is "We Serve," and as a part of the worldwide Lions Clubs International that has worked to eliminate measles and other life-threatening diseases, potentially endangering the health of any in our community is simply not acceptable.
We are considering some form of alternative online Christmas celebration utilizing social media that could provide seasonal fun for children and families without the inherent risks involved with the parade. Please follow our Fairmont Christmas Parade Facebook page for additional information as it becomes available.
We certainly hope that we can again provide an exciting Christmas parade for the families of Fairmont next year.
Bob Moffett, President
Fairmont Lions Club
Notice: Due to the Coronavirus COVID-19 pandemic, We have reduced our meetings and are meeting virtually, rather than in-person. Some of our normal service activities have been impacted by the pandemic, but we are continuing to serve in ways that are safe for those we serve and for our members. Updates will be posted on this page. You may also check the club's Facebook page for updates. Please be well and stay safe.
Fundraising Activities
Please note: Brooms and mops may be available at these local retailers: TNT Industrial Supply (White Hall), V&W Electric, Kime Floral, White Hall Pharmacy
Some of these may have reduced hours or may not have brooms and mops at this time, due to the pandemic.

Thank you for your support in the past and in the months to come. Without your support, we would not be able to provide our services to the Fairmont community.


Next Meeting
Thursday, January 14, 2021
We will be working on service in the meantime. An additional meeting may be called if necessary.
This meeting will be held virtually.


Find Us On Facebook
"WE SERVE"