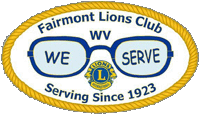 Fairmont Lions Club
PO Box 1164, Fairmont, WV 26555
Chartered April 20, 1923

Fairmont Lions Club
PO Box 1164, Fairmont, WV 26555
Chartered April 20, 1923


&nbsp
Services Completed 7/1/2019 - 6/30/2020
People Served

Service Activities Completed

Volunteer Hours

Funds Donated

5,955

65

763

$2,726
Schedule of Meetings & Events
Notice: Due to the Coronavirus COVID-19 pandemic, Vision Screening has been temporarily suspended and our regular meetings and some service activities have also been canceled. We continue to serve in ways that are safe to our members and the community. Updates will be posted on this page. You may also check the club's Facebook page for updates. Please be well and stay safe.
No Meeting
Thursday, July 9, 2020
Due to COVID-19, the Fairmont Lions Club will not meet in July unless there arises a need to meet, in which case the president will call a meeting.

Business Meeting
Thursday, August 13, 2020


Find Us On Facebook

<! -- ------------------------------------------WE SERVE------------------------------------------- -->

"WE SERVE"


<! -- ----------------------------------SiteLock image------------------------------------------------- -->