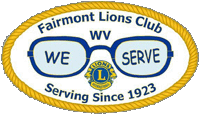 Fairmont Lions Club
PO Box 1164, Fairmont, WV 26555
Chartered April 20, 1923

Fairmont Lions Club
PO Box 1164, Fairmont, WV 26555
Chartered April 20, 1923


&nbsp
Services Completed 7/1/2020 - 6/30/2021
People Served

Service Activities Completed

Volunteer Hours

Funds Donated

6

3

13

$0.00
Schedule of Meetings & Events
Notice: Due to the Coronavirus COVID-19 pandemic, We have reduced our meetings to one time a month and are meeting virtually, rather than in-person. Some of our normal service activities have been impacted by the pandemic, but we are continuing to serve in ways that are safe for those we serve as well as for our members. Updates will be posted on this page. You may also check the club's Facebook page for updates. Please be well and stay safe.
Fundraising Activities
Please note: Brooms and mops may be available at these local retailers: V&W Electric, Kime Floral, White Hall Pharmacy
Some of these may have reduced hours or may not have brooms and mops at this time, due to the pandemic.
We only have limited access to our inventory at this time, so restocking may be slowed, as well.
Sale of peaches and apples may be impacted by a late frost and by the pandemic. Please watch this site for updates.
Thank you for your support in the past and in the months to come. Without your support, we would not be able to provide the services that we do.


Next Meeting
Note: Changed to Thursday, September 24, 2020
This meeting is likely to be held virtually.


Find Us On Facebook

<! -- ------------------------------------------WE SERVE------------------------------------------- -->

"WE SERVE"


<! -- ----------------------------------SiteLock image------------------------------------------------- -->