Fairmont Lions Club > About Us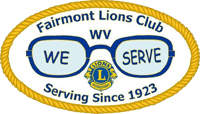 About the Fairmont Lions Club
The Fairmont Lions Club's motto is "WE SERVE"
About Lions
Lions Clubs International is the world's largest service club organization. Our motto is "We Serve." Lions give sight by conducting vision screenings, raising awareness of eye disease, by providing eye care and through our SightFirst Program, working to eradicate blindness. Lions serve youth through scholarships, the Peace Poster Contest, leadership camps and more. Our Foundation and Lions are helping communities following natural disasters by providing for immediate needs such as food and water, and aiding in long-term reconstruction. Lions around the world are initiating new programs tackling Diabetes and Pediatric Cancer. The Fairmont Lions Club is celebrated its 95th Anniversary of service to Fairmont in 2018.
Club Officers 2019-2020
President
Robert Moffett
1st Vice President
Elizabeth Swiger
Recording Secretary
Virginia Gallion
Reporting Secretary
Robert Moffett
Treasurer
Robert Brummage
Tail Twisters
Ralph Davis & Ed Neese
Program Coordinator
Guy Ward
Directors
Leroy Humberston
1 yr.
Nancy Sickles
1 yr.
Jim Coleman
2 yr.
Columbus Carpenter
2 yr.
Meetings
Mom's Place
39 Philips Lane
Fairmont, WV 26554
2nd & 4th Thursdays
6:30 pm


Contact The Fairmont Lions Club
Email Secretary Bob Moffett [rmoffett@ma.rr.com]
Email Webmaster Bob Moffett [rmoffett@ma.rr.com]
"WE SERVE"