Fairmont Lions Club > Newsletter (Text Only)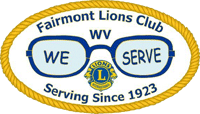 The Mane Growl
February 2020 (Abridged)
Members Leave a Legacy of Service
Ralph Lee Davis, Jr. passed away on January 24, 2020. Ralph has been a Lion since 2010, serving some of that time as a member of the Mannington Lions Club and some as a member of the Fairmont Lions Club. Ralph was always eager to participate in club fundraisers and service activities. He was always willing to pitch in and lend a hand. Beyond the club, he traveled on mission trips to help rebuild after Hurricane Katrina and to clean up homes after the more recent flooding in the Mannington area a few years ago. Ralph was a recipient of the Leonard Jarrett Award from the WV Lions Sight Foundation.
Charles Wayne Dodd also passed away on January 24, 2020. Wayne was a Lion since 1998, serving our club as president in 1999-2000. Wayne spent many hours serving on the club's Eyeglasses committee over many years. Wayne also was a recipient of the Leonard Jarrett Award from the WV Lions Sight Foundation.
Jacob "Jake" Gladstone Brumage passed away on February 12, 2020 in Florida. Jake first joined our club back in the 1970s and served as club president in 1996-1997 before moving away from Fairmont. He returned to Fairmont and joined the club again in 2006. He again served as club president in 2008-2009, 2010-2011, and 2013-2014. He received his Senior Master Key in 2019 for sponsoring 25 new Lions. For many years, Jake was in charge of broom and mop sales and with his wife Margaret, who passed away last year, insured that the Peace Poster Contest was conducted in area middle schools. Jake had received the Leonard Jarrett Award from the WV Lions Sight Foundation and was presented with the International President's Certificate of Appreciation in 2008 and again in 2010 for a significant service to Lions Clubs International, given at the discretion of the international president.
Lions Ralph, Wayne and Jake have left a legacy for the club and for Fairmont through their dedication to service. They were also our friends and we miss them. Leonardo da Vinci said, "As a well spent day brings happy sleep, so life well used brings happy death."
Former Member Passes
Scott Summers, a former member of the Fairmont Lions Club, passed away in December. His wife, Bonnie, also a former member, survives him. Scott had also belonged to the Rivesville Lions Club and had served a number of years on the District 29L Cabinet as Zone Chairperson and Pilot Dog Chairperson. Many of us remember Scott fondly and miss him.
District 29L Conference
March 14, 2020 Blennerhassett Hotel, Parkersburg 304-422-3131
Registration 8:00 am Reg. Fee: $40 includes lunch Cabinet Meeting 9:00 am Luncheon 12:30 pm Guest Speaker: PID Roderick P. Wright New Brunswick, Canada
MD29 Council Mtg. 4:00pm
February 27th Program Will Be Portrayal of Boaz Fleming
Jack Oliver will visit the Fairmont Lions Club and portray Boaz Fleming, the founder of Fairmont, on Thursday, February 27, 2020. Oliver has been portraying Fleming at several events for the Fairmont bicentennial. This promises to be an informative and enjoyable program.
Nominating Committee Appointed
It is that time of year again when the club needs to begin preparing for the new club year beginning July 1. President Bob Moffett has appointed a Nominating Committee consisting of Virginia Gallion, Nancy Sickles, Leroy Humberston and Elizabeth Swiger who will report a proposed slate of officers in March to be elected in April. If you are interested in holding an office, please let one of the committee members know. If you are asked to serve in a leadership role for next year, please thoughtfully consider a positive response.
People Are Helped with Eye Exams & Glasses
Eyeglasses Committee Chairperson Keith Long reports that the club is providing four individuals with eye exams and glasses. The club is now receiving an increasing number of requests through Facebook. Some have been from other communities and have been referred to clubs in those areas.
Vision Screening Planned for Board of Education
The Fairmont Lions Club has partnered to assist the Marion County Board of Education with Pre-K Registration required vision screening. Screening will take place on two days, Tuesday, April 21, and Wednesday, April 22, 2020 from 8:30 am - 3:00 pm each day.
Barrackville and Rivesville Lions clubs have been invited to join us in this screening, as we will need a number of volunteers for this two-day event. Please mark these dates on your calendar, if you may be able to help out.
2019-2020 Fairmont Lions Club

People Served: 3,882
Service Activities Completed: 34
Volunteer Hours: 628
Funds Donated: $501
Calendar
Feb. 27 Meeting Jack Oliver as Boaz Fleming 6:30 pm Mom's Place
Mar. 12 Business Meeting 6:30 pm Mom's Place
Mar. 14 District 29L Conference Blennerhassett Hotel Parkersburg
Mar. 26 Program - TBA 6:30 pm Mom's Place
This Issue's Quote
"The best way to find yourself is to lose yourself in the service of others" —Mahatma Gandhi
Just A Lion Or Two
Beulah Miller was scheduled for surgery and will miss attending meetings for a period of time.
"WE SERVE"