Fairmont Lions Club > Newsletter (Text Only)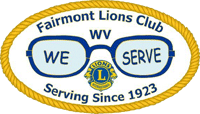 The Mane Growl
October-November 2019 (Abridged)
Club Awards Peace Poster Winners
Gabriella Mugnano, a 7th grade student at Fairmont Catholic School, and Cody McCale, a 7th grade student at East Fair-mont Middle School have each taken the first step to becoming an internationally recognized artist by winning a local com-petition sponsored by the Fairmont Lions Club.
Mugnano's and McCale's posters were among more than 450,000 entries sub-mitted worldwide in the annual Lions International Peace Poster Contest. Lions Clubs International is sponsoring the program to emphasize the importance of world peace to young people everywhere.
"Peace is something that won't come together in one day, but we have to work for it," Cody McCale said. Gabriella Mugnano stated, "Peace doesn't come from violence, it comes from the kindness within us." Their posters were selected for originality, artistic merit, and portrayal of the contest theme, "Journey of Peace."
Bob Brummage and Bob Moffett pre-sented a certificate and a Walmart gift card to each 1st & 2nd place winner in recognition of their artisitic accomplish-ments.
Soup Opera Collections Continue
Ed and Jackie Neese asked that the club continue collecting food and toiletries for the Soup Opera and planned to deliver the items each month. The club will make the collec-tions at the second meeting of each month. However, a November collection was delivered to the Soup Opera after the first meeting since the club only has one November meeting. Columbus Carpenter delivered the November collection. The Soup Opera expressed appreciation and said the supplies on hand have been running low when Bob Brummage took in supples.
Members Clean-up Rail Trail
On Monday, November 14, club members Ralph Davis, Bob Brummage, Aletta and Bob Moffett cleaned about a two-mile stretch of the West Fork River Ralph S. Larue Trail between Monongah and Norway (below Mary Lou Retton Park). Several garbage bags were subsequently picked up by Marion Co. Parks & Recreation.
Apple Sale A Success
On Friday, October 18, Bob Brummage headed into the mountains of West Virginia and returned to Fairmont with a trailer–load of apples for the Lions club to sell. By 8:00 am on a foggy and brisk Saturday, the apples were being sold in front of Learning Land Day Care & Preschool. The sale was scheduled to last until 2:30 pm, but with only a few bags left, the sale closed down and Brummage headed home. Before he made it home, all of the remaining apples were sold.
In addition to 65 bushels of apples, the club sold 18 half-gallons of apple cider, also from the orchard where the apples were obtained, and 18 jars of apple butter. The event amounted to sales of approximately $1950 from apples and cider and $150 from brooms and mops — total proceeds of about $2100.
Thanks go to participating Lions Ed Neese, Bob Brummage, Leroy Humberston, David Sturm, Virginia Gallion, Nancy Sickles, Ralph Davis, Aletta Moffett, Bob Moffett, Wayne Dodd, Jim Coleman, Columbus Carpenter and Joey Garcia.
We Remember Margaret Brumage
Margaret Ann Brumage, a long-time member of the Fairmont Lions Club until the end of 2018, passed away on October 1, 2019 in Florida, where she and her hus-band of 37 years, current member Jacob Brumage, resided at the time. Her burial service was held in Fairmont and Jake joined with some of his Fairmont area friends and some members of the Lions club for lunch at Mom's Place during the trip back to Fairmont.
Christmas Party is December 7th at Union Mission
This year's Christmas Party for less fortunate children will be held on December 7th at the Union Mission. Some members have been purchasing toys and wrapping gifts to prepare. The club provides $20 to be used toward each child's gifts. Participating families have been signing up for the party at the Union Mission and providing a list of the child's wishes for the club's gift buyers, who try to find at least one or two items from the child's wish list.
As usual, the Lions will gather at 6:00 pm in the dining room for a seasonal dinner prepared by the Mission staff and a few words from Rev. George Batten, Executive Director. Lions will then move upstairs to help distribute the toys and other gifts to the children.
As in past years, Kime Floral is donating a centerpiece for the occasion.
Christmas Parade
Marci Carroll, our Christmas Parade Chairperson, reports Fairmont's Christmas Parade is December 14th, again in conjunction with the "Feast of the Seven Fishes," with Lions asked to arrive on Fourth Street about 3:00 or 3:15 pm to help with parade line-up. She has confirmed participa-tion of all three high school bands. The parade will begin at 5:00 pm and will follow the same route as in recent years, disbanding near Palatine Park.
Reading Action Program/Read Aloud WV
On November 7th, Monongah Elementary was provided books for children to select and take home by Read Aloud West Virginia because the school was among the first schools to submit their application to participate this year. Aletta and Bob Moffett assisted with the book distribution where 357 children picked out books to call their own. Other Read Aloud WV volunteers also participated. The Marion County chapter of Read Aloud WV is a project of the Fairmont Lions Club. Read Aloud WV also donated a book to the school in honor of Aletta Moffett for her founding and leadership of the Marion County chapter, which this year has added middle schools to the program.
Eyeglasses Assistance
Nine individuals received eye exams and glasses from the Fairmont Lions Club during October and November.
Adult Vision Screening Events
Adult vision screening was held at the Women's Health Awareness Day at Fairmont Regional Medical Center October 11th. Twenty-five persons were screened, including two children. Fourteen people were referred. Aletta Moffett, Bob Brummage and Bob Moffett conduc-ted the screening.
Aletta and Bob Moffett screened 15 people, including one child, at the Disability Action Center on November 12th. Seven were referred.
2019-2020 Fairmont Lions Club

People Served: 1,543
People Served per Member: 62
Service Activities Completed: 23
Volunteer Hours: 206
Calendar
Nov. 28 Thanksgiving Day No Meeting
Dec. 7 Christmas Party for Children 6:00 pm Dinner 7:00 pm Party Union Mission
Dec. 14 Christmas Parade 3:15 pm Line-up Fourth St. & Everest 5:00 pm Parade
Dec. 26 Merry Christmas Happy New Year No Meeting
Jan. 9 Business Meeting 6:30 pm Mom's Place
This Issue's Quote
"Thanksgiving Day is a jewel, to set in the hearts of honest men; but be careful that you do not take the day, and leave out the gratitude." —E. P. Powell
Just A Lion Or Two
Ed Neese is home and recovering well. We wish him the very best.
Congratulations to Joey Garcia and his partner who took 2nd Place in the People's Choice "Dancing With The Stars" for the United Way.
"WE SERVE"