Fairmont Lions Club > Newsletter (Text Only)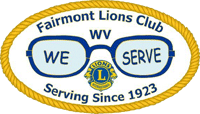 The Mane Growl
April - May 2022 (Abridged)
Lions Screen Eyes & Give Away Books at Board of Education's Family Literacy Fair
Eight Lions assisted with the Marion Co. Board of Education Family Literacy Fair on Saturday, April 30th. The club's booth was set up on Friday morning for the Fair which ran from 10:00 am - 2:00 pm on Saturday. Lions participating were President Bob Brummage, Virginia Gallion, Joey Garcia, Leroy Humberston, Aletta Moffett, Bob Moffett, Nancy Sickles and David Sturm. Together, these Lions put in 46 volunteer hours on the event.
The club had 240 books for children to choose from and take home with them. When the club ran out, the board of educa-tion provided another boxload of books for us to continue distributing. These children will have reading materials for use while they are out of school this summer.
51 students received free eye screenings by the club. Of these, 10 were referred to be seen by an eye care professional.
Club Cleans Rail Trail
Saturday, April 16, was the day that Fairmont Lions Club members finally got to clean the rail trail between Fairmont and Monongah. The original date planned for the clean-up turned out to be a foul weather day causing a postponement of the project.
Pres. Bob Brummage, Aletta Moffett and Bob Moffett removed enough litter to fill three large garbage bags. Several riders on the trail expressed thanks to this clean-up crew as they rode by.
Fairmont Lions Continue Support to FSU Students
The Fairmont Lions Club made its annual donation of $200 to the Fairmont State University Foundation in support of student scholarships again this year. The club has contributed to scholarships for many years.
2022-2023 Club Officers Elected
Congratulations and a "thank you" to the 2022-2023 club officers who will serve the club in the coming year, beginning July 1, 2022.
President Bob Brummage Vice President Guy Ward Secretary Bob Moffett Treasurer David Sturm Directors Nancy Sickles Leroy Humberston Membership Chr. Joey Garcia LCIF Coordinator Aletta Moffett
Vision Screening for Health Equity Fair
The Fairmont Lions Club has been invited to provide vision screening as a part of the Health Equity Fair and Cultural Celebration, Juneteenth Jubilee, taking place from 12:00 pm – 6:00 pm, June 18th, at Windmill Park (920 Ogden Avenue), by Jennifer Troutman with the DSF Stop Program.
They are expecting approximately 800–1,000 primarily underserved African–Americans from ages 2–80 for the event. The club would set up under a canopy (as we did for the Family Literacy Fair). Since it is outdoors, we have asked them to provide tables, chairs, and dark tarps to cover the canopy to block daylight so that the Plusoptix vision screener can perform properly. They will also provide the club with electicity. The club can screen for fewer than the six hours of the event, if necessary.
Thank You Received
The club received a card of thanks from the WV Lions Sight Conservation Foundation, Inc., acknowledging the club's donation of $700.
WV Lions Student Work Program Continues
The Student Work Program of the WV Lions at the WV Schools for the Deaf and Blind at Romney continues despite the tragic fire that destroyed the historic Administration Building earlier this year. While many records were lost, the records and check book for the WV Lions Club Student Work Program were not lost. The program currently serves about 30 students who perfom supervised work for a small stipend per hour, giving the students some additional spending money and the incentive to work, learn skills and follow a discipline.
The building, which was over 100 years old, was destroyed. "The students, faculty and staff are grieving," says Lion Roy Knight, the MD29 Coordinator of the Student Work Program. The work will continue, as this will give the students some stability and structure in the days and weeks ahead.
COMING EVENTS
July 30, MD29 Council Appreciation Luncheon, Cacapon Resort, Berkeley Springs
July 30, MD29 Council of Governor's Meeting, Cacapon Resort, Berkeley Springs
Aug. 26–27, Lions of WV Leadership Retreat, Days Inn, Flatwoods
Sept. 13–17, USA/Canada Lions Forum, Calgary, Alberta, Canada
Oct. 28–29, District 29I Fall Conference, Coolfont Resort, Berkeley Springs
March 17–18, District 29L Spring Conference, Grand Point Conference Ctr., Vienna

2019-2020 Fairmont Lions Club Service Activities July 1, 2021 - June 30, 2022

People Served: 2,880
Service Activities Completed: 43
Volunteer Hours: 392
Funds Donated: $3,365
Eyeglasses Provided
Six area residents were approved by the Eyeglasses Committee to receive eye exams and glasses in April, according to Keith Long, Chairperson.
962 pairs of used eyeglasses, collected by the Fairmont Lions Club, were delivered to the WV Lions State Convention at Canaan Valley Resort by Bob Moffett, where they were packed up along with those collected by other clubs around the state to be transported to the Lions Eyeglass Recycling Center in Roanoke, Va. There, volunteers will wash and sterilize glasses, determine the prescription and prepare the eyeglasses for distribution all over the world.
LCIF Funds Come to West Virginia Again
The Upshur Parish House, located in Buckhannon, WV, was able to purchase a brand new 2022 Chevy 3500 flatbed truck, thanks to support from the Upshur County Community, Buckhannon Rotary Club, Buckhannon Lions Club and Lions Clubs International Foundation. They had been using a 2001 pickup truck which had over 220,000 miles on it and needed repair. DG Sue Long (District 29I) explained that the LCIF matching grant covered 75% of the costs for the project, with the other 25% from the local Lions club and/or their partners. Upshur County Lions clubs provided $5,660 of the match and the Upshur Rotary Club provided $5,000, a total of $42,640, with $31,980 coming from LCIF.
The Upshur Parish House receives thousands of pounds of food each month and had relied on their pickup and other volunteers' trucks to transport all of the food, handling each box of food at least four times. Now, they will be able to load pallets onto the new truck and deliver the food to the food pantry. The Upshur Parish House is a mission project of the WV Conference of the United Methodist Church.
New Member Fee Waived Through June 30, 2022
Calendar
Calendar (subject to change during pandemic)
May 12 Meeting 6:30 pm Palatine Park
May 14 Club Sec./Treas. Training (Zoom) 11:00 am
May 19 Club Pres./Vice-Pres. Training (Zoom) 7:00 pm
May 21 Club Pres./Vice-Pres. Training (Zoom) 11:00 am
June 18 Vision Screening Windmill Park (under consideration)
Aug. 26-28 Lions of WV Leadership Retreat

This Issue's Quote
"Read the best books first, or you may not have a chance to read them at all." —Thoreau
Just A Lion Or Two
We were happy that Nancy Sickles and Leroy Humberston were able to join us at the Family Literacy Fair.
------------
PDG Bob Moffett, Editor
"WE SERVE"